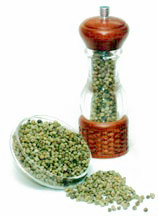 Dehydrated Green Pepper is a premium quality pepper, processed out of farm fresh green pepper berries into dried form, by air drying, retaining its green colour and giving out the best flavour. This is par excellent in quality, flavour, colour etc than Black Pepper. This value added spice product is based on technology developed by the Central Food Technological Research Institute, (CFTRI) India.
We are exporting Dehydrated Green Pepper to Europe in bulk, since last two decades, packed in 10 and 15 Kg Net corrugated carton boxes, which is repacked and distributed there.
PROCESSING
The Processing involves collection of farm fresh berries right from the pepper vines and directly feeding them to the processing plant within 24 hours, before any microbial action sets in. The product Dehydrated Green Pepper is a substitute for canned green pepper. Dehydrated Green Pepper is easy to store and transport, when soaked in lukewarm water will regain its fresh green colour and shape. Because of its pleasing flavour and aroma there is a distinct preference among conscious consumers for green pepper to black pepper.
Our processing plant is located at Pampady, K. K. Road, Kerala; 17 Kms. east of Kottayam town, right in the heart of pepper growing areas. We maintain very good quality for our product for the extreme satisfaction of our customers.
The processing of Dehydrated Green Pepper is carried on a seasonal basis, depending on the harvesting period of raw Green Pepper crop. Usually the season for Raw Green Pepper cropping starts from October, November and ends by March, April.
USES
The pungent taste and flavour of Dehydrated Green Pepper is universally liked, in meat and sausage industries. The packers sell it in small packets as well as in powder form. Beef and pork steaks become more delicious with a sprinkling of green ground pepper. Dehydrated Green Pepper gives attractive colour, flavour and aroma to all kind of soups.
PRODUCT SPECIFICATION
PRODUCT– Dehyrated Green Pepper
BOTANICAL NAME – Piper nigrum
Product Details: Fresh raw green pepper berries is dehydrated (hot air drying), whole regular size of Green Pepper corns with max. 2% of black corns, without broken, stems and foreign materials, not mouldy.
CHEMICAL EXAMINATION: -